Whether hosting a get together for your loved ones or organizing your next big corporate lunch, catering is one of the topmost concerns on every event planner's list. The food you serve can make or mar your event. However, the pressure extends far beyond just treating your guests to delicious edible food! It is essential to ensure that the food you serve caters to the taste buds and eating preferences of majority of your guests. At the same time, it is also important to create a visual delight with the way the food is served.
Professional Catering Equipment
New at event planning? You may find yourself lost in a sea of catering equipment available in the market. It is advisable to get a professional supplier for hiring catering equipment. This can save you the trouble of buying or arranging the equipment.
Holland Party Hire is Adelaide-based party and event hire company with a rich experience of 38 years in the business. We can supply the equipment for your next party or get together. Additionally, our team of expert event planners can also advise you regarding the food display and warming equipment best suited for your needs.
Furthermore, hiring a professional catering equipment supplier can save you from the embarrassing stock outs of spoons or forks, or the hideous stack of mismatched plates!
Useful Tips For Hiring Catering Equipment
Wrong serving dishes, different styles of cutlery, plates and bowls, cold food – all have the potential of turning your party into a nightmare for your guests! To prevent such a fiasco, read our handy guide of things to keep in mind while finalizing the catering equipment for your next event.
Type of food to be served
The foremost thing you need to decide upon is the kind of food you will be serving at your party – whether it will be just food or drinks as well, whether it will be cold hors d'oeuvre or warm dishes. These factors will determine the type of catering supplies you will require. If this is giving you cold feet, worry not! Holland Party Hire is here to assist you in making all the important food and catering decisions.
Style of cutlery & equipment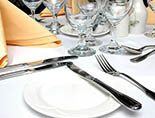 It helps greatly to decide the theme of your party before you meet with the supplier. Having cutlery and catering equipment that falls in sync with the theme of the party can create a distinctive visual experience for your guests. You can have aqua colored cutlery and plates to go with your beach-theme party, or roulette inspired tableware for your casino-themed party. There are various options available for you to choose from. Speak to one of our catering specialists at Holland Party Hire and make your next event a memorable one!
Know Your Options
Catering these days has moved away from old-styled buffet spreads to more intimate arrangements. It always helps to discuss all the options available to you with your catering equipment supplier before the party. The options include –
Traditional buffets and food displays
Silver or stainless steel chafing dishes
Multi-purpose action stations allowing for simultaneous cooking and warming of food
Induction burners and griddles
There is something to suit every taste, budget and preference!